STEAM & HOT WATER HEAT
When it comes to fast boiler heating service, new installations and repairs, you can count on the great service and expertise you receive from HOFMEISTER PLUMBING & HEATING.
With our promotions, discounts and energy-saving solutions. From service to new systems, Precision can help.
Relax in cozy comfort. Our technicians can repair your system on-time when you need us.
If you're looking for the best in new boiler systems, HOFMEISTER has the answer from the leading brands. Select from the best systems on the market, with expert installation from licensed professionals. The features of some of the latest condensing boiler technology include:
* Ultra High Efficiency – Up to 98%
* No Restriction on Return Temperature and Flow Rates
* Stainless Steel Hydro-Formed Fire Tubes for Long Life
* Low NOx and CO Levels, Meeting Air Quality Control Regulations
You may be eligible for tax credit savings of up to $1500 off a new heating system, plus local utility rebates.( check our energy incentives page for more info)
Hofmeister is the trusted choice in thousands of local homes.
With us there are no surprises: you'll always know the full price in advance before you give us the go-ahead to do the work, for your complete peace of mind.
With free estimates on new boiler installations.
For great service for all your boiler needs across the entire north and central Jersey, call and speak with the specialists from Hofmeister plumbing & Heating today.
HOT AIR FURNACE
When cold winter weather is at its worst, you can relax in the comfortable warmth of your home. However you choose to heat your house HOFMEISTER can make it happen. We install, service, and repair furnaces electric or gas, air handlers, heat pumps, zoning systems , troubleshoot controls and much more. We take care of your heating needs by sending out qualified technicians and trucks loaded with the right parts. We stock hundreds of parts, and our work is 100% guaranteed.
Get a professional inspection from qualified comfort advisor technicians. You'll find out how long your current system may last, how much you're over-paying on utilities, and how much you might save with a new more efficient system. Call today to schedule you free inspection.
We offer many accessories and options including:
Humidifiers
Dehumidifiers
Standard medium air filters system
Electronic air cleaner system
Energy-saving programmable thermostats
RADIANT FLOOR HEATING
The best heating system a house can have is the one you don't realize is there. No radiators clanking in the night. No vents whooshing like a jet preparing for takeoff. No dust-spewing ductwork to run up your allergists' bills. Just an even blanket of heat, right where you want it.
In a radiant setup, the warmth is supplied by hot-water tubes or electric wires buried underneath the floor. As the invisible waves of thermal radiation rise from below, they warm up any objects they strike, which radiate that captured heat in turn. Though the air temperature remains relatively constant, you stay comfortable because the surrounding surfaces aren't stealing warmth from your body.
There are two basic ways to supply this gentle, even warmth: hot water or electricity, Hot-water "hydronic" systems—the most popular and cost effective way to heat an entire house—circulate water from a boiler or water heater through loops of 1/2-inch polyethylene tubing. The flexible tubes can be installed in a variety of ways: on top of the subfloor in grooved panels or snap-in grids; clipped ­into aluminum strips on the underside of the floor; or embedded in poured concrete. Once the system is in place, you can cover it with most types of finish flooring, including hardwood and tile. Carpet
Feel free to call your local Hofmeister office and request you free estimate on radiant floor heating.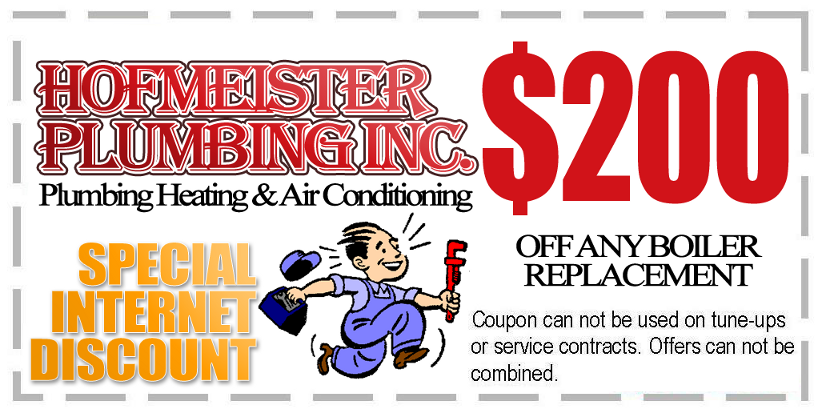 Click to open Coupon in new window and Print